Best online bingo sites to play Bingo in the Philippines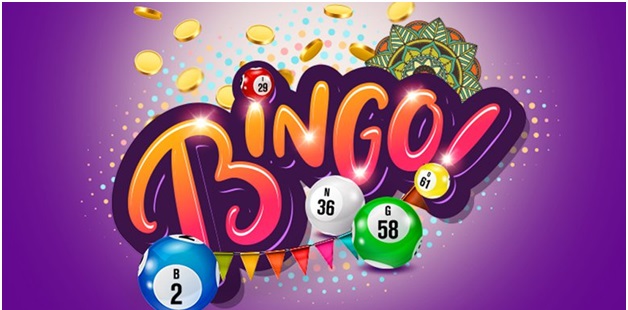 There are many Bingo sites to play Bingo online in Philippines. You can play Bingo as a standard bingo game or enjoy various bingo variants like 75 ball bingo, 80 ball bingo, 90 ball bingo or 30 ball bingo.
Though Bingo is a game of chance and it's entirely your luck to win or lose the game, still Filipinos love to play Bingo. You can play free bingo games or play with real Peso that's your choice. Free Bingo games are available at online casinos as well as at app stores and all you need is to simply play the game whenever you want with your mobile or PC. Real money Bingo games can only be played at online casinos and lotto sites in the Philippines by buying Bingo ticket in real Peso.
You don't need to master any skill or strategies, and this is one reason why its huge in different parts of the world. The only thing 'skill' that you should master is the art of listening, especially when you play in traditional bingo halls. You need to listen to the host as he calls a random string of numbers from 1 to 90. As soon as the number has been called, a player will mark this on his ticket and if a pattern has been formed, he may shout to say 'bingo' a sign that the bingo game has been won. There are different patterns that may be formed, and the pattern that you need to complete depends on the rules of the bingo room. Of these patterns, the 'full-house' is the most popular pattern that can be completed. As the name suggests, you need to mark all numbers to win the game.
In online versions, you no longer have to listen intently to the numbers that are being called. In many rooms for bingo games that accept players from the Philippines, the numbers are automatically marked as they are called.
How to play online Bingo?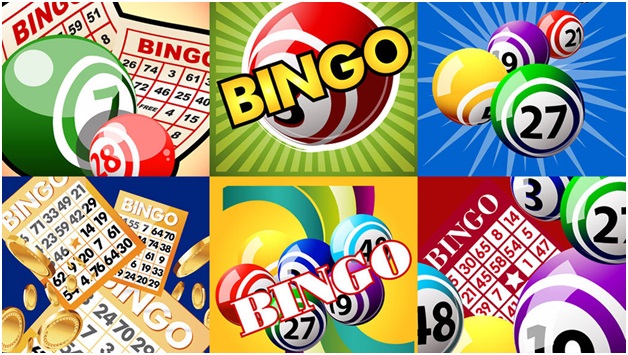 To start your online bingo adventure in the Philippines, you will need to create an account with a reputable website that's licensed to accept Filipino players.
You need to register with your user name, valid email, and mobile phone number.
After the completion of the registration, you will then deposit funds to purchase tickets.
The price per ticket will depend on the type of bingo games and the online casino where you will play online bingo games.
Each bingo card will feature a series of numbers from 1 to 90 depending on the bingo games variant that you have selected. Remember, you are only required to match the numbers with those on your cards.
Once you have formed the desired pattern, you will win and collect the prize.
Another great thing about online bingo in Philippines is that it allows you to socialize and make friends online. Most online Philippines casinos that offer bingo also provide chat rooms which you can use while you play. When the game starts, you can chat with other bingo players about tips, tricks, or anything about life. Many bingo websites also feature tournaments, mini-games, and side games that can definitely make the play bingo games experience more memorable. By playing this game, you can discover a different way to play casino games – you play, collect a prize, and even win a friend!
Where to play online Bingo at Philippines?
There are many online sites and casinos to play online Bingo at Philippines. Here are the few best ones to play Bingo in real time
888 Bingo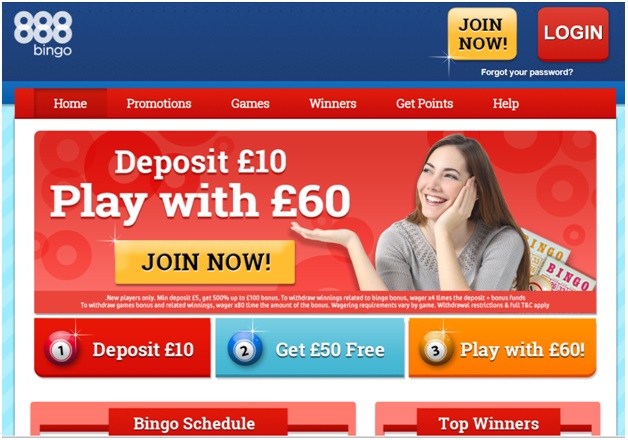 888 Bingo accepts players from Philippines. Here you can play the following Bingo games:
90 Ball Bingo: The most famous version of bingo is 90-ball bingo. Players opt-in to a 90-ball bingo game by buying numbered bingo tickets. A caller calls out numbers randomly and if they appear on a player's ticket, the player covers them or 'daubs' them. The 1st place winner is the player that covers any 1 line pattern, the 2nd place winner covers any 2 line pattern and the Full House winner covers all 3 lines on the ticket.
75 Ball Bingo: 75-ball bingo is the dominant form of bingo played in North America and is a variation of the 90-ball bingo variety. Players opt in to a 75-ball bingo game by purchasing numbered cards. A caller calls out numbers randomly and if they appear on a player's card, the player covers them or 'daubs' them. The first player to complete a pre-determined pattern on his/her card with covered numbers wins the game.
High 5 Bingo: There are 5 ways to win with High 5 Bingo. Hit a row of 5 numbers diagonally, across or from top to bottom to win. The more lines you make the bigger and better the prizes.
Also, find many progressive bingo games to play. They can only be won through a winning FH bingo round and only on games in which a progressive jackpot is available – to find out go to the room's prize panel. If a progressive jackpot is not won, it is carried over to the next associated game. A jackpot increases each time a player buys a ticket to play the game. The amount a jackpot increase depends on the contribution rate – tickets purchased with bonus funds contribute less than those purchased with real money (see rates below). A new jackpot is usually created immediately after a pot is won – with the same parameters and reset to zero or a seed amount. If more than one player wins the jackpot the prize will be divided between them.
Some of the Progressive Jackpots also include the Progressive Jackpot Must Go feature. In these features, the winning condition – number of calls of the original Progressive Jackpot, increases until the jackpot is won. The number of calls and the time of their increase is set pre-hand. The Jackpot amount, spread of rooms, card type, seed, and contribution rate are those of the original progressive Jackpot.
Chit Chat Casino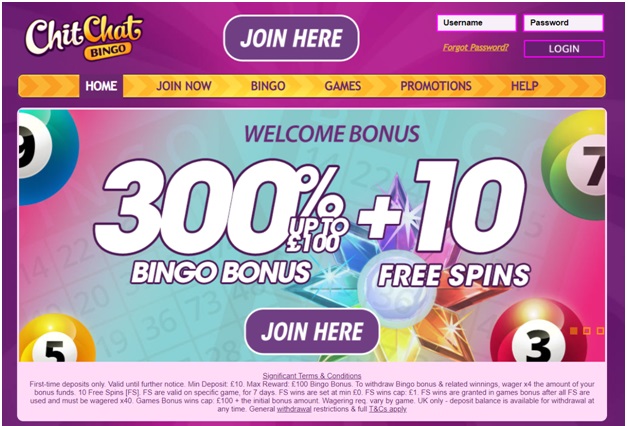 At Chit Chat online Bingo also offers the same variants like the 888 Bingo. Some of the following Bingo games to enjoy are 90 Ball Bingo, 75 Ball Bingo, High 5 Bingo. Also find the royal room bingo.
Royal Room Bingo is exclusive to its members. Every Tuesday from 6pm until 9pm, our VIP players can look forward to playing for a total of £200, countless free spins and best of all prizes handed out by their VIP Manager. There are a grand total of 20 games, all with jackpots ranging from £5 to £15 – taking you to our £200 jackpot total. On Wednesdays and Thursdays, all active players who have deposited in the past can access the Royal Room from 7pm until 11pm. Players can look forward to playing for a grand total of more than £800 plus 650 free spins. The jackpot amounts range from 25 Free Spins to £25.
There are many other Chit Chat Bingo Jackpots to play and have fun. Some of them are
House Bingo Jackpots, Guaranteed Bingo Jackpots, Community Bingo Jackpots, Progressive Bingo Jackpots and more.
Rich Casino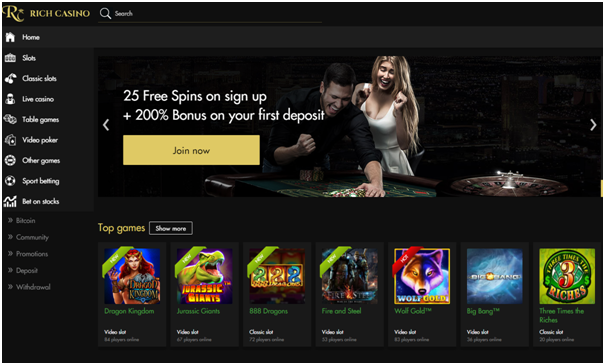 Rich casino offers great bingo games to its punters.
You'll see 3 great Bingo games here bingo slot, bingo slot 3 line and bingo slot 5 line. All these bingo games work on the principles of slot machines.
Bingo Slot 3 Lines is one of three slot machines from Top Game with the Bingo theme and with a similar design. The difference between them is in the number of active paylines, this being the 3 line version, the other two having 5 and 25 lines. The Bingo theme is not uncommon, and not just because Top Game has three titles about it, but because other developers have also approached it in the past, so you have plenty of choices to pick from.
Just like the name says, there are 3 lines in this game, and it's a 3 reel title of course. A $15,000 top prize is on the line if you play it, the symbol offering it being the same one that also acts as the wild. You also have a progressive jackpot to go after.
As a classic variant, with just three paylines, the game doesn't have a lot to offer in the feature department, but at least one symbol has a special role, and it's a wild. The purple Wild ball that gets the role of the wild feature is the same one that was used in the other slots from the series. A wild symbol is also going to give away the progressive jackpot, or a regular prize, if it appears three times on the same active line and forms a combo. Other than that, you need the wild icon to be on a line where there are a couple of matching regular icons already, so that it can use its powers and substitute for the one that is missing.
Since you get 3 lines in this version of Bingo Slot, you also have 3 coins you can use. Each coin you select will activate a different payline, and it's a good idea to use all of them, since that's the only way you can win a progressive jackpot. The coins are worth up to $5, the minimum being $0.01. As for the maximum bet, it's at $15.
A combo of three wilds gets you the top prize, but only if it lands on the 3rd line does it bring a progressive jackpot with it. This progressive jackpot was valued in the seven figure territory in the past, so it's definitely a bad idea to use less than 3 coins. With just one or two coins, and a combo appearing on the 1st or 2nd paylines, the jackpot is worth only 1,000 or 3,000 coins ($15,000).
The design is very similar to the other two slots from the Bingo Slot series, with the reels being placed on one half of the screen, while the paytable takes the other half. It uses the same paper like design, which tries to make it look like a real bingo card. The symbols are round and they have mostly non-bingo related images on them, with only one of the balls having a number on it. If you want something a bit more Bingo themed, go for the 25 line version.
Symbols: Wild Ball (wild, progressive jackpot), 8 Ball (200 coins), Triple Bar Ball (50 coins), Double Bar Ball (25 coins), Single Bar Ball (10 coins) and Red Smiley Face (5 coins).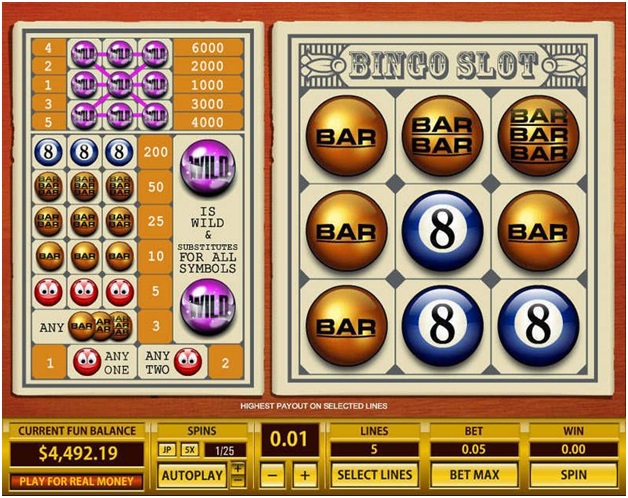 Bingo Slot 5 Lines gets you a classic slot machine with a Bingo theme, with 5 lines as the title suggests. Two other versions exist, with 3 and 25 lines. The one with 3 lines is very similar to the version with 5 lines, the difference being only in the number of lines. The graphics are the same though, so pick the one you're comfortable with. In this case, you get more chances to win prizes, but you wager more as well.
Bingo Slot's 5 paylines are arranged on a typical 3 reel setup. There is even a wild symbol in this classic slot machine, while the biggest prize available in it is worth $30,000.
Just one feature was added to the 5 Lines slot, the same one that is available in 3 Lines as well. I'm talking about the wild symbol, a popular feature in classic slot machines that choose to add something extra to their reels.
The symbol with wild powers is marked as such, with the word typed on a purple colored ball. You get the wild symbol's help only when everything is right, with the rest of the payline it is on being occupied by matching icons which can form a combo if the wild substitutes for one of them. If that happens, you get a win line that pays what the paytable mentions for those matching icons. If the wild forms its own combinations, things get a lot better, as it can award payouts between 1,000 and 6,000 coins, depending on which payline got the symbols.
With 5 lines that can be activated, though you don't have to use them all, you also have 5 coins that you can select to be used. For each coin, there is a denomination in the $0.01 to $5 range, which you have full control over, meaning that bets in this slot can reach $25, but that they can be as low as $0.01 as well.
The line that the combo of three wilds lands on is important because each one has another value for the jackpot. The first line is the smallest one, worth 1,000 coins ($5,000). The fifth line has a 6,000 coins value, or $30,000. To activate the higher paying lines, you have to use all the coins.
The design is OK for a classic game, but it's not that impressive. It follows the design of a Bingo card, which you can see on the right half of the game screen, with the paytable position being on the right side. There are various ball symbols that appear, but only one of them looks like a bingo ball. The others simply have words typed on them, like Wild, Bar, or a happy face.
Symbols: Wild ball (wild, 6,000 coins), 8 Ball (200 coins), Three Bar Ball (50 coins), Two Bar Ball (25 coins), One Bar Ball (10 coins) and Smiley Face (5 coins).
There are various other sites to play bingo online in Philippines. Click here to visit now.
All these online sites and casinos offer awesome no deposit bingo bonuses to play bingo games. You can make a deposit in Peso or in Euros or in dollars to play games here in real time.