How to play Tong-its ZingPlay in the Philippines?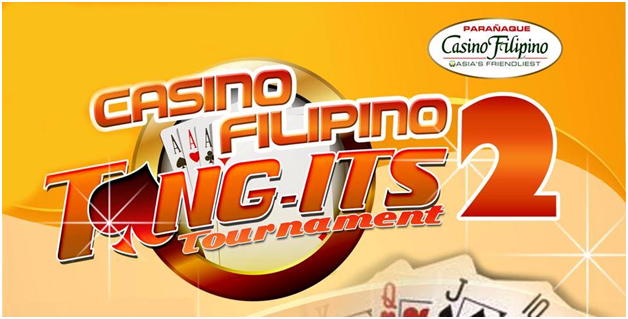 Tong-its is the most popular card game in the Philippines. Every type of player in Philippines plays this game. This card game gained popularity in the 1990s in Luzon the largest island of the Philippines.
This game is played using the standard deck of 52 cards. Its origin remains unknown but it was believed to have been popularized by the Ilocanos, and which was first played in Pangasinan in the mid 1980's which they call "Tung-it". The game rules and the very name can be associated with the American card game, Tonk, and also share its similarities of Mahjong.
This has been the favorite past time amongst Filipinos for generations. During the start of the game, it may seem that players are helping one another, but in the end there is always a winner who gets to take home the pot.
Tong-its – Game Rules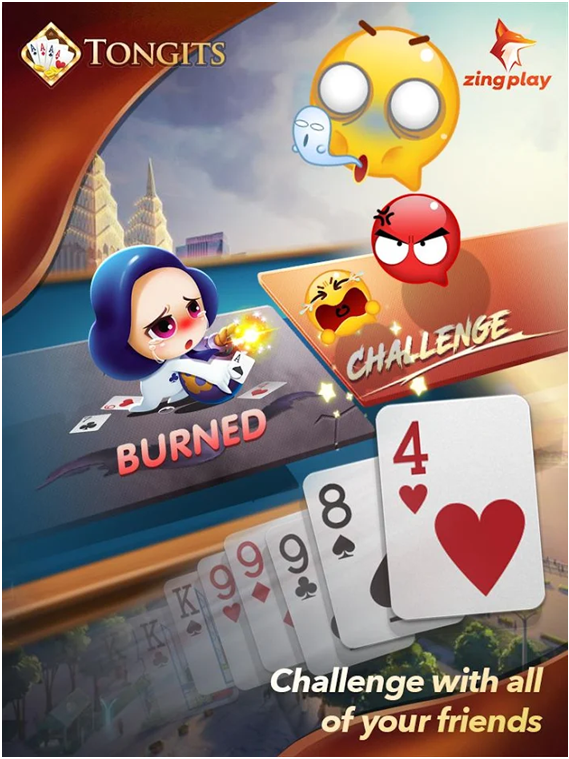 Just like any card game, Tong-its has its rules to follow.

This is played by 3 players, the dealer deals out 12 cards to each player and an extra card for the for them for a total of 13 cards. The dealer will start first, by discarding 3 straight flush or trio (tapon), then the next player (the one to the right) can choose either to take the discarded cards or pick a card from the deck (bunot).
If the player chooses to pick the discarded cards then the player has to discard 3 cards with the card the player picked up. If the player chooses to pick a card from the deck, it will just complete the flush or trio and no need to open their cards. A player also has options to connect (sapaw) to any set of open cards, either by extending the straight flush or adding 1 card to a trio making it a 4 of a kind.
After that move a player has to discard one card to end the turn. One of the best strategies is to drop at least one completed cards to make it difficult for the other player to call a draw. There are also some tong-it things to avoid; out of cards meaning when the deck is gone and one of the players completes their card the game is over.
Each player will count their cards, whoever has the lowest number of cards wins. Tong-it, a player can call this if one is able to drop and connect all the cards at hand. A player can call a draw if one had opened the card and thinks that the opponent has a higher point total. If a player called a draw and nobody opened then the caller wins the game. If a player has burned cards (sunog) meaning the game ended and still has not opened the cards, he has to pay the winner extra (if playing for money).
In this game, there are ways of betting if it is a money game. A peso is dropped into the pot for winning, and an extra peso for tong-it, sunog,and draw. The winner of the game is called hitter, who will be in charge of dealing the next round.
Indeed, this simple card game had gained much popularity. The rules are very easy to understand. Moreover, it is really fun and it can really take away one's boredom. Not to mention, earning a few bucks.
Where to play Tongits online?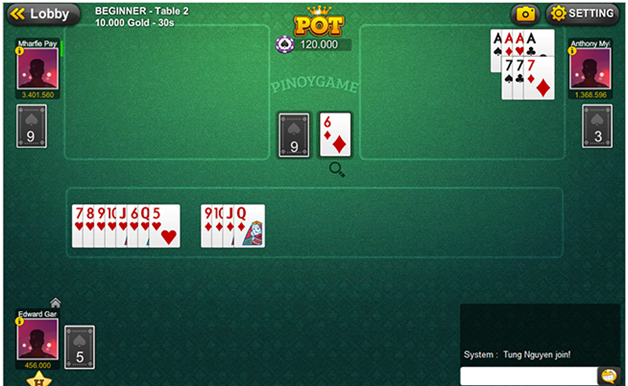 Many Philippines online casino and local websites offer this card game online. But thanks to Game North and Zing Play as they have developed a free Tongits Zingplay app for Filipinos to download and enjoy the game.
This mobile game comes with the most fantastic graphics and effects definitely brings you unique and exciting experience.

As said above in Tongits player who gets rid of all the cards or has the least number of total points at the end of the game becomes winner. The players can win by Tongits, after Fight, Bisaklat or having smallest points. This game is also a strategy game when you have to avoid being Burned or having too many points when the central stack is empty. You will need good strategies and luck to win by Tongits.

Click here to download this app from Google Play Store for your Android
Tong-its Zingplay game app features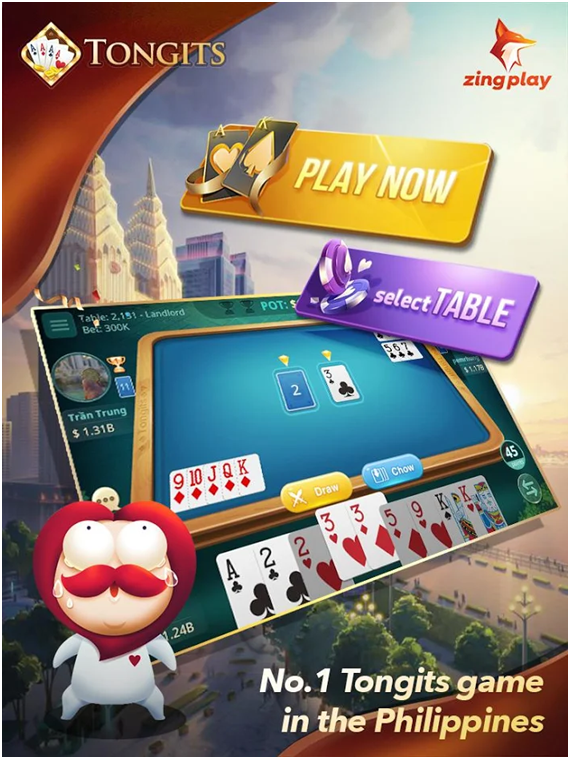 The Tongits Zingplay has awesome app features
You can enjoy unlimited fun with free gold supported daily

Play with your friends on Facebook
To win the pot money you need to win 2 rounds to get more and more gold

Also create your own channel, decide bets and wait for other players to join.

You can login easily by Facebook, Google or Zing Account.

While playing with friends show your feelings and reactions to other players while you are playing.
Though this game  as an free app doesn't offer you real money, it does offer you real awards or prizes from time to time.  Check https://www.facebook.com/tongits.zingplay.ph/ for more details on rewards.

Also there are other many Tongits game apps at app stores like Tongits Go, Tongits Tayo and others.