5 Best Places To Visit Near Metro Manila For Enjoyment And Fun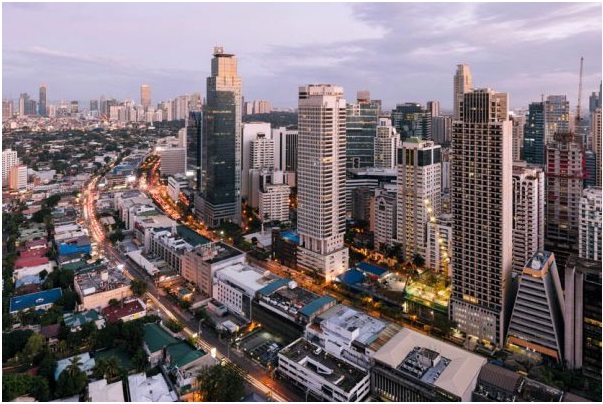 There are many wonderful places to visit near Metropolitan Manila or Metro Manila as it is popularly called. Metro Manila is very popular venue in Filipino.It is composed of 16 cities: the city of Manila, Quezon City, Caloocan, Las Piñas, Makati, Malabon, Mandaluyong, Marikina, Muntinlupa, Navotas, Parañaque, Pasay, Pasig, San Juan, Taguig, and Valenzuela, as well as the municipality of Pateros. It is the second most populous and the most densely populated region of the Philippines.
Due to the latest outbreak of COVID-19 there are certain protocols to follow to visit anywhere in Philippines.  For example, the Province of Ilocos Sur is now open to tourists but not without documentation, required testing, and possibly some time spent in a quarantine or triage area before being allowed enter the province. The same goes for some of the provinces across Luzon. If you don't possess the required test results or travel documents, you may be asked to turn around and go home.
Fortunately, there are quite a few destinations near Metro Manila that are at most, lenient, and only require the minimum health protocols for visiting riders or tourists. Here are 5 Best Places to Visit Near Metro Manila For Enjoyment And Fun which doesn't require any document or any restrictions due to COVID 19 as of now.
1. Tagaytay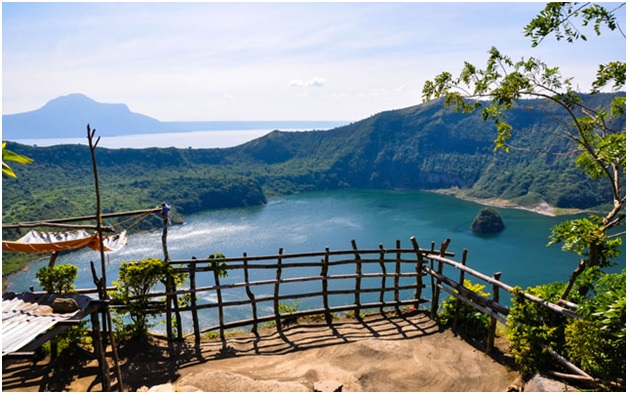 Tagaytay, officially the City of Tagaytay is a second-class city in the Philippines. It is one of the country's most popular destinations for domestic tourism because of its scenery and cooler climate provided by its altitude. Tagaytay overlooks Taal Lake in Batangas and provides views of Taal Volcano Island in the middle of the lake through various vantage points situated in the city.
Tagaytay is relatively close to the capital city of Manila, only 59 kilometres (37 miles) away via Aguinaldo Highway, providing an easy escape for the locals from the heat of the huge metropolis.
Because of cool weather, and lots of restaurant choices make it an easy pick for many who want some fun. The easiest way to go there (without using the expressway) is to just follow Aguinaldo Highway all the way to the Tagaytay rotunda.
Popular attractions include Twin Lakes (which overlooks Taal Volcano), Crosswinds Tagaytay (with an Alpine Windmill house as an attraction), Leslie's Ridge restaurant, and many more.
2. Kaybiang Tunnel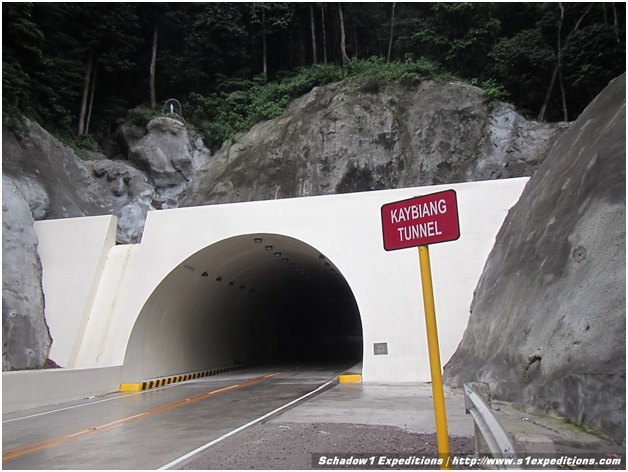 Kaybiang Tunnel, which is situated on the border of Cavite and Batangas, has also become a popular destination to family and friends who want to ride for some fun.
Kaybiang Tunnel is the Philippines' longest subterranean road tunnel. This tunnel links the towns of Ternate, Cavite and Nasugbu, Batangas through a hole under Mount Palay-Palay (aka Mt. Pico de Loro). It's a very popular landmark for cyclists and riders based in Manila for weekend rides. This 300-meter tunnel is part of the 6-kilometer Tourism Road in Cavite that cuts travel time from Manila to Nasugbu and Calatagan, Batangas from the usual 4 hours via Tagaytay to just a little over one hour.
To reach this tunnel take Emilio Aguinaldo Highway onto Tirona Highway, then to Centennial Road, Antero Soriano Highway, and onto Governor's Drive which leads into the Nasugbu-Ternate Highway.
There are dozens of carinderias small food stalls along the road that offer lugaw (rice porridge), Batangas Lomi, and other local dishes.
3. Quarry Road in Binangonan, Rizal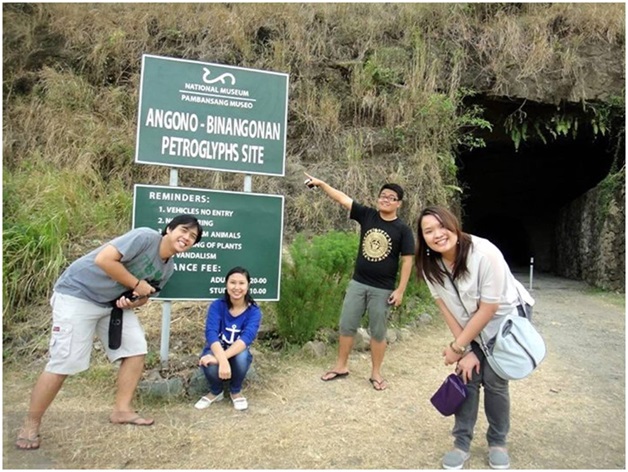 There is a newly-constructed road up in the hills of Binangonan, Rizal and it offers a breathtaking view of the Metro Manila skyline, especially at night. Called Quarry Road, it's accessible from Manila East Road (R5).
A thriving fish port and fishing industry is found in Binangonan, having a long coast line facing the Laguna de Bay, including the western part of Talim Island. The plant of Rizal Cement and Grandspan are in Binangonan as well. There are various restaurants on this road where you can relish some of the local food and drinks at affordable rates.
4. Angeles City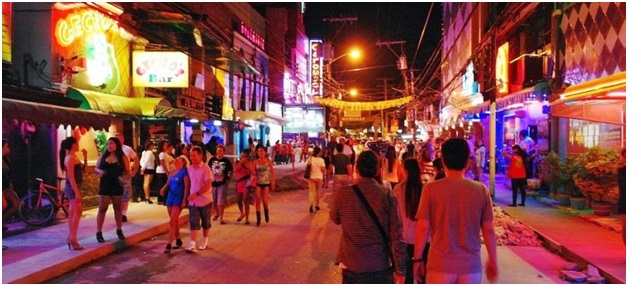 Angeles City is in Pampanga province in the Central Luzon region of the Philippines. The city is rich in history and heritage, with old and historical significant buildings dotting its landscape, but these days it is best known for its high concentration of casinos and the vibrant nightlife for men. Aside from these, it is also famous for its extreme sports adventures in the lahar flows of Mt. Pinatubo.
This city surrounding the former US Air Force base is home to many restaurants that offer a great gastronomic experience, and usually at affordable prices.
If you're the type of person who's willing to ride hundreds of kilometers just for good food, this is the place for you. To go there, just follow the MacArthur Highway all the way to Angeles. Or, if you're driving, just follow the North Luzon Expressway and exit at the Angeles City toll exit. Some of the popular food destinations in Angeles include Bondoc Steak House, which offers pretty affordable Pinoy-style steaks; Aling Lucing Sisig – home of the original Kapampangan sisig, Ningnangan (barbecues, seafood), and many more.
5. Laguna Loop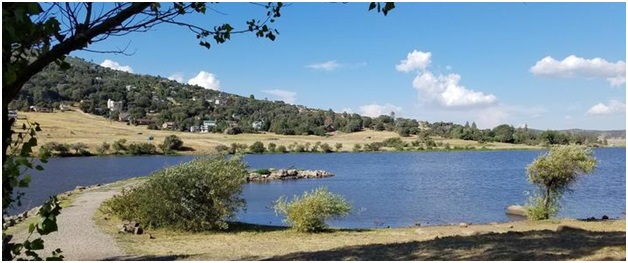 Laguna de Báý or Báý Lake is the largest lake in the Philippines. It is located southeast of Metro Manila, between the provinces of Laguna to the south and Rizal to the north. A freshwater lake, it has a surface area of 911–949 km² (352–366 sq mi), with an average depth of about 2.8 metres (9 ft 2 in) and an elevation of about 1 metre (3 ft 3 in) above sea level. The lake is shaped like a stylized 'W', with two peninsulas jutting out from the northern shore. Between these peninsulas, the middle lobe fills the large volcanic Laguna Caldera. In the middle of the lake is the large island of Talim which falls under the jurisdiction of the towns of Binangonan and Cardona in Rizal province.
The lake is one of the primary sources of freshwater fish in the country. Its water drains to Manila Bay via the Pasig River.
The Laguna Loop is basically all the roads that encircle the Laguna Bay, amounting to 200 kilometers total. To go there, start from Ortigas Extension in Cainta and just follow the Manila East Road until you reach the town of Pagsanjan, Laguna. Upon reaching this town, you may want to stop by for some good ol' fashioned halo halo at Aling Talengs.
From there, continue until you reach Los Baños, then Calamba, Laguna. Follow the Manila South Road until you reach Alabang, Muntinlupa then back into Metro Manila.
You can visit these awesome places for fun on your bike, bus, rail, train or flight.