Cocktails and whiskey flights at pop-up Scotch Bar in Poblacion Philippines
The Biggest Scotch Bar in the Country Opens in Poblacion. Poblacion in Philippines is well known for girl bars and massage parlours. It is the old downtown area of Makati and its second most important commercial center behind the Makati Central Business District. It is also the city's center of government, culture, history and entertainment and one of the major business districts in Metro Manila.
Location of Poblacion belongs to the city's West District where it forms part of its Northwest Cluster or "Cluster 3". It is bounded on the west by Nicanor Garcia Street and barangay Valenzuela, on the south by Kalayaan Avenue and the Makati CBD (Bel-Air Village), on the east by Estrella Street and Guadalupe Viejo, and on the north by the Pasig River. Poblacion houses the upscale Rockwell Center and Century City.
As of now Poblacion is going through a bit of improvement where brothels are being transformed into high-end designer hotels and old buildings now house an eclectic selection of homegrown restaurants, bars and other cool hangouts. Also known as "Williamsburgos" nicknamed after one of Brooklyn's hipster neighbourhoods expect a wide variety of joints that offer latte art, craft beer and multicultural street food here.
For those who want a taste of Manila's latest nightlife restaurants and unique drinks, Poblacion now has the Biggest Scotch Bar in the Country. Also they have newly-opened Johnnie Walker House which  is a must-visit place for you. The Johnnie Walker House, located just along Kalayaan Avenue, is pretty hard to miss–just look for the sign and you'll know you're in the right place.
Poblacion's charm is in its artistic vibe, and the Johnnie Walker House fits right in, with its façade and interiors designed by Jappy Agoncillo, Lee Caces, Kate Quebrar, Kara Pangilinan, and Kookoo Ramos. The IG-worthy neon wall was also designed by Agoncillo.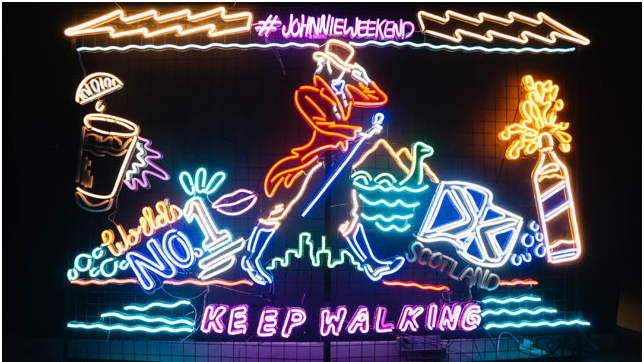 When you visit the bar you are greeted by a huge picture of Johnnie Walker with a lit up sign saying, "This is the sign you've been looking for."
You can try the full range of flavors of the Scotch whisky brand at the bar–order a whisky flight, have a cocktail, and enjoy the exclusive single malts that are blended into Johnnie Walker. If you're a big Johnnie Walker fan, ask for the rare drams set to sample some of the rarest whiskies.
Going up the building and into the bar, you are accommodated into a wide sophisticated space that showcase the works of well-known local artists such as Jappy Agoncillo, Lee Caces, Kookoo Ramos, Kate Quebrar, and Kara Pangilinan. There are gorgeous murals and art installations to make your whisky experience a lot more lively and colorful.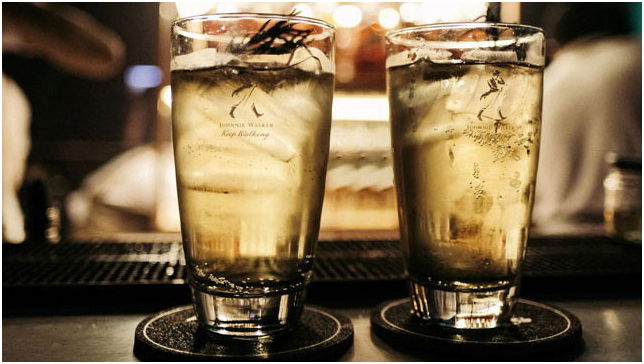 You will find how distinct the taste of each Whiskey label. Paired with cheese, fruits, and crackers, you can find how pairing whisky with different textures and flavors can bring out the uniqueness of each label. For example, the Johnnie Walker Black Label tastes amazing with toasted marshmallows. With the wide range of labels available, there's definitely one for each one's preferences.
You will also  appreciate their Scotch whisky and other Johnnie Walker cocktails. Also find one of the most expensive and rarest drinks from Johnnie Walker, the King George V, which is only available at the Johnnie Walker House.
Sans the food pairing, your whole experience will have something everyone can enjoy on regular nights too. The full range of Johnnie Walker, from Red to Blue, is available to order at the House. You can also order those in a flight and in a cocktail (with a recipe made by Lester Ligon!). Or you can even enjoy exclusive single malts – those that are blended into Johnnie Walker – and sample some of their rarest offerings, such as XR21 and King George V.
If you haven't made the trip yet, you may want to schedule a visit soon. The Johnnie Walker House is open Tuesdays to Sundays, from 5 p.m. to 2 a.m., until May 10th 2019 before it moves to another location. Remember to drink responsibly!
Check out the Johnnie Walker Facebook Page for a rundown of upcoming events.