Wu Dragon Slot Machine by IGT at Casinos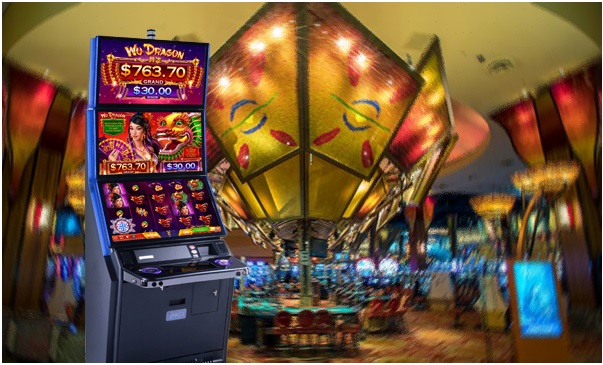 Last year IGT launched a wonderful slot machine from IGT called the Wu Dragon. The unique thing about this game is that is has symbols that turn wild, along with the surrounding spaces, when hit with a meteor. Extra bet lets you retain borders until they explode.
Players can also place a side bet to keep the top frames in place until any of them are hit by the fire wheel wild symbol. If a hit occurs, all the top frames turn to wilds allowing for spectacular wins.
Wu Dragon also features a scatter trigger bonus to win 10, 20, or 50 free games and a progressive jackpot level that could be won at any time during game play.
This game has a 100-credit cost to cover with real-time 3D effects like heat haze, motion blur, or ripple distortions along with rich graphics that are sure to keep players entertained. Wu Dragon is available on IGT's all new PeakSlant 32 cabinet.

Wu Dragon Slot Machine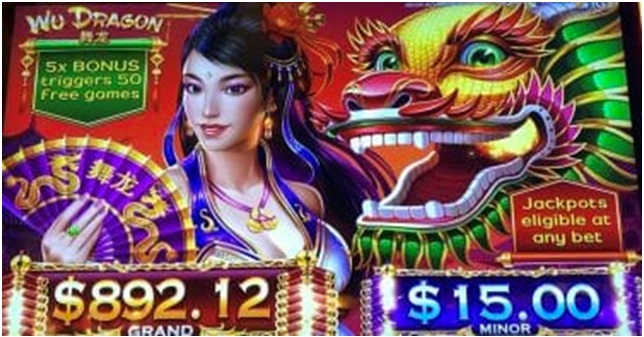 The game is a 26-line game on a 5×4 reel set. The base game is 60 credits increments, while a More/Better bet, the Portal Lock, is available in 100 credit increments.
On any spin, between 1 and 20 fire wheels can interact with the reel set – any space they land turns wild. If they land on a space where a portal appears, then that space, and all of the spaces around it, including diagonally, will turn wild.
The Portal Lock bet will hold the portal symbols if they are not turned wild, until one is turned wild. They will continue to collect until a fire wheel lands on a space where a portal is locked or lands on a given spin.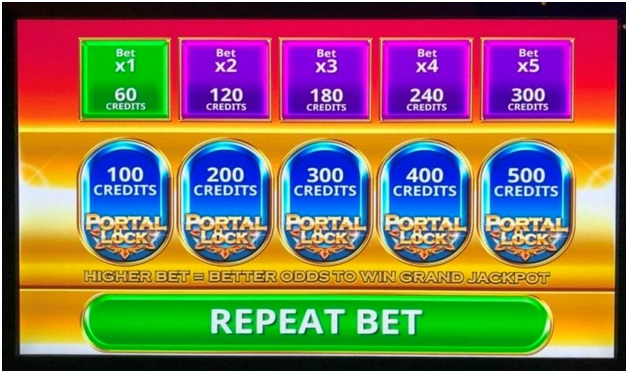 The portal and the surrounding symbols will turn wild like normal, but any other portals will also turn wild, increasing the chances of a big win, and hence the additional bet requirements. When the portals turn wild, they unlock and go away.
Like many other IGT games, the locked portal symbols are linked to the bet level, and each bet level has its own set of persistent state reels.
This game also has two progressives, called the Minor and Grand. You can win either progressive at any bet level, but the higher the wager, the better the chances to win the game.
Free Spins Bonus Feature
Three or more Bonus symbols will give you a free spins bonus. The number of spins is determined by the number of bonus symbols, as you get more games on 4 or 5 bonus symbols:
3 bonus symbols: 10 free games
4 bonus symbols: 20 free games
5 bonus symbols: 50 free games
The bet level you were betting is maintained in the bonus, including the Portal Lock bet. However, reel 3 is always portal symbols in every spin, to help improve the chances of a fire wheel hit, bringing wilds in the bonus.
Note that the free games cannot be retriggered.
More portals locked in place is a larger advantage, as the odds are higher a fire wheel will hit one, and the pays will likely be higher given the additional wilds that will show up when it hits. You can also potentially find portals locked on each of the bet levels.
Of course, until the fire wheel actually hits, you don't get anything, and if it takes a time that can quickly erode any opportunity to come out ahead.
You can play this awesome game of Wu Dragon Slot Machine by IGT at real land casinos as well as few friendly online casinos.