Ez2 Lottery
As the name suggests Ez2 is a pretty simple and, well, easy lottery game format. The way it works is that for the price of Php 10 you select two numbers, in order, and possibly win Php 4,000. There are permutations to this which I'll go through later.
Launched in Luzon back in 2004, its popularity skyrocketed almost immediately and is now available nationwide. Since it's a small-prize lottery system, the results are drawn on a daily basis. This format has incredibly high appeal to the mass market of the Philippines as it offers a low-risk (Php 10), high reward (multiplier of x4,000.00) system.
How to Join
You can purchase any ticket from any of the many outlets available nationwide. You simply get an Ez2 form, select the two number combinations you'd like or "Lucky Pick" if you don't want to choose a number. Once you've selected a number combination got to the counter so you can pay as you submit. Make sure to keep your ticket and check back for the results of the draw.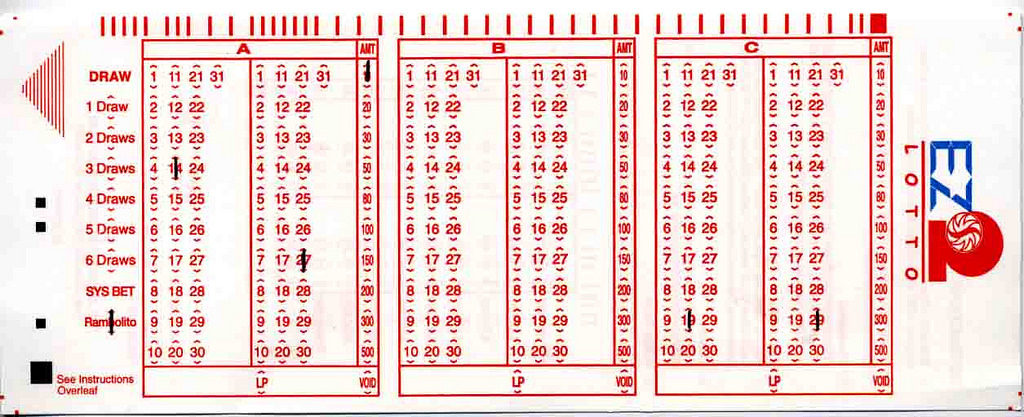 If you want, it's also possible to enter the second permutation of the game called "Rambolito". Simply tick the option on your ticket to let the encoder you are entering this format. Both cases the cost of a ticket is Php 10.00. Rambolito, I assume is derived from the word Rambol, which means mixed up. This game format allows the bettor to select two numbers and win should those numbers be drawn, regardless of their order. This significantly increases your chances to win which is why the payout multiplier becomes x2000.00. So in Rambolito for every Php 10.00 entry you can win Php 2,000.00.
How to Win
No, I don't have the numbers regarding which combinations are more likely to appear. Honestly, if you wanted to create an algorithm to see which ones were more likely based on previous draws – all the past results are available at the website. For us who rely on the excitement and luck of a quick lottery, we anxiously await the results of each draw.
Ez2 results are actually drawn three times a day at 11am, 4pm, and 9pm. You can watch on TV at around 9pm, but who seriously has time for that. I recommend going online and checking the results at your own time. If you are near an outlet you may also drop in to check the results of the draw.

How to Claim your Winnings
So you've won, congratulations! Now how do you get your prize? Well, if you are claiming a total prize amounting to Php 5,000.00 or less, you can walk up to any of the sanctioned lottery outlets and claim from them. Prizes above that amount must be claimed either at PCSO branch offices or at the PCSO Head Ofice, 605 Conservatory Bldg., Shaw Blvrd. Corner Priceton St., Mandaluyong City.
Remember to keep your tickets in good condition as much as possible and to bring it when claiming your prize!
Summary
Ez2, as a quick and easy turnaround game, is very alluring. I recommend this game to anyone who wants to engage in little risk for a light bit of fun.