MSW Betting Mobile Odds and Review
Mega Sports World (MSW) Betting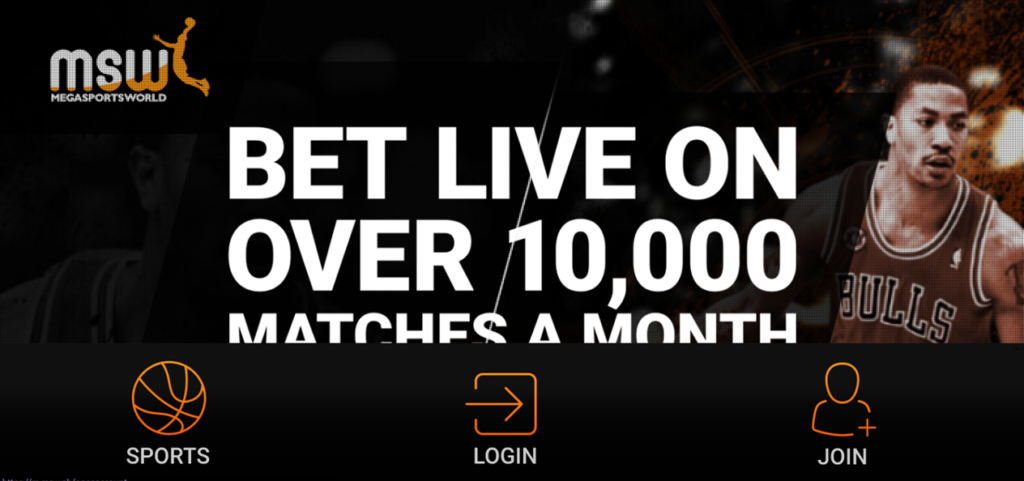 Mega Sports World betting or MSW is a fully-licensed sports book operation in the Philippines. MSW has over 100 outlets spread across the Philippines and are usually found in casinos and internet cafes. It has quickly become the popular choice in sports betting activities of the Filipino people. This, of course, is excluding box betting or horse race betting as those have their own world and following. Though that doesn't mean that you can't centralize your bets and simply place on MSW.
How do I place a bet on MSW?
Placing a bet through MSW can be done in three ways. One is by going to an accredited outlet and placing a bet directly. If you do this they'll have you sign two bet ticket receipts and have you keep one for claiming.
Create an Account
The other two options requires that you make an online or telebet account first. This is rather easy you may do so online, through the phone, or by visiting any of the MSW outlets. I recommend making an account online as it's less hassle in my opinion.
Funding your Account
Once you have created an account, you have to make sure you have available funds to place a bet. You may pay through any of the accredited MSW outlets or make a deposit in the banks (BDO, BPI, RCBC, and Metrobank). Also note that now that you have funds in you account you can call the hotline (88-66-180) or log-in to your account to place bets online.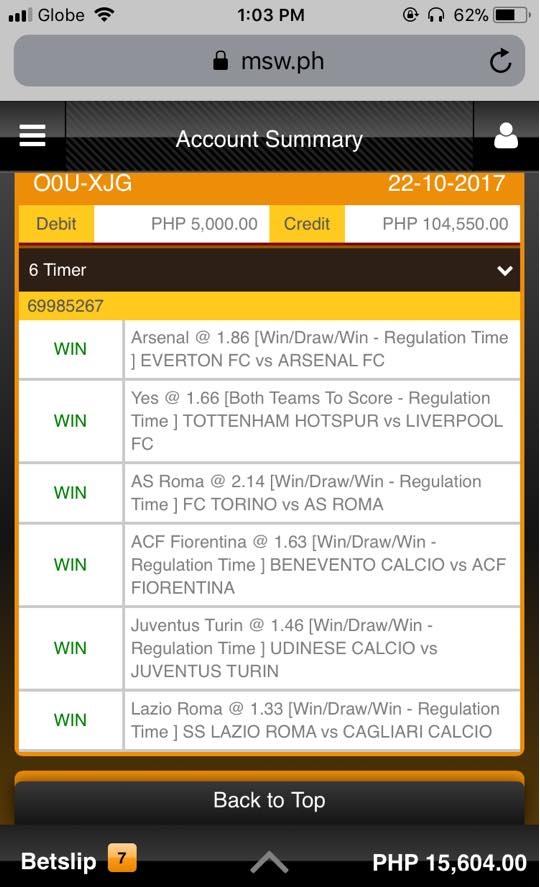 Once a player is logged into their account they can access any sport by using the side columns and drop-down menu. Once selected you can pull up a betting slip for the matchup and place a wager on the sport. The betting slip will include details such as age, sport, event, selection, game date, bet type, and stake. MSW offers 3 wagering options: Strait, Totals, and Money line bets. The match-up will determine the money line and the number of points scored will usually determine the wagering options. Once all information is filled out and complete, you can submit your bet for MSW to process.
MegaSportsWorld also offers an MSW credit card or payout card that contains your money and can be used for all sorts of cashless transactions, money can also be withdrawn from any Megalink ATM at any desired time.
What can I bet on in MSW?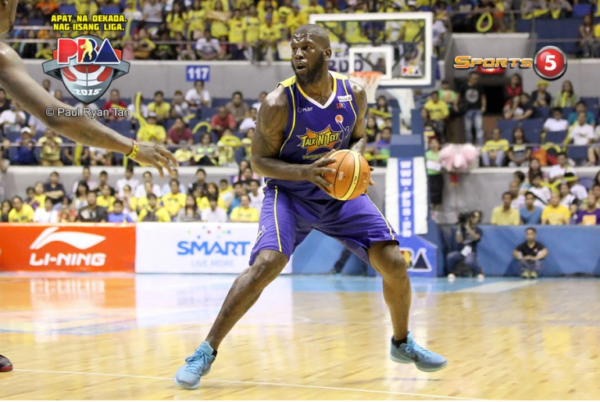 At MSW you will find a wide range of sports that can be wagered on. They offer some local events as well as regional sports and international sports. When selecting the sport you might have to select what country and if it's a man or woman sport. Although you can bet on about any sport, the most popular sports to bet on in the Philippines are Basketball, Horse racing, Boxing, Soccer, Tennis, Motor Sports, Golf, Cricket, Baseball, Snooker, Rugby, Darts and many more.
Types of bets
The types of bets that can be made vary depending on the sport you are betting on. I'm listing here some of the more common betting formats that you can encounter.

Outright
This betting format (see column 1 in the photo above) covers the bets where you simply select the team/person/entity and their result in a particular match, game, bout, round, leg, race, or championship. This type of bet can have a payoff per instance of the sport or may wait until the conclusion of the entire series of activities. Some examples of this would be in MMA or Boxing where you bet on the winner of a fight. Another example may be F1, where you wager on the season's champion driver.
Over / Under
This type of betting (see column 3 in the photo above) is typically arranged for sports that have a numerical scoring system in determining the winner as opposed to time-based or performance based. In some cases the subject of the bet is the length of time the sport will take. Some examples of this would be in MMA or Boxing, as well as in Soccer or Basketball.
Plus and Minus (+ / -) or Handicap
This kind of betting arrangement (see column 2 in the photo above) is for sports that allows for varying margins of victory. It is basically adding a condition to the outcome of the sport. Say for example that you engaged in a (+3.5) wager on a certain team, this means that your selected team does not need to actually win the game. Your chosen team needs to only lose by 3 points or less and would still win your wager because of the +3.5 handicap. On the other hand if you bet on a team with a (-4.5) handicap they would not only need to win, they would need to do so by 5 points or more.
Sports Covered

How do I claim my winnings?
If you have an account either online or through telebet your winnings are automatically credited to your account. In order to get your money you simply have to withdraw it using the method you specified when you created your account. (You can always update this in your account settings).
Live Streaming
MSW offers a live streaming calendar to their members. Members can check events they may want to watch days before the event. Live streaming is limited by rights and viewing restrictions but MSW still offers a good mix of sports their members can follow. You can usually find live events for Basketball, Football, Soccer and more.
E-games
Electronic games or e-games are included in the betting lines covered through MSW locations. Regulated and licensed by PAGCOR, e-games are casino type games that can be played on computer stations across the Philippines. They have a wide variety of games that users can wager on including slots, poker, baccarat and many others. The minimum bet is usually P500 and your terminal gets loaded by a cashier. VIP rooms are also sometimes available, they require higher bets but offer a more private experience and loyalty cards. E-games and MSW stations often share kiosk stations.
Virtual Sports
Virtual sports are computer generated outcomes that utilize data provided to produce a winner. Over the last 50 years, virtual sports have taken a new form and today are a popular gambling service. MSW has recently added virtual sports as an option and players can now wager on virtual outcomes for their favorite sporting games. Popular virtual sports to play and wager on are Horse racing, Basketball, Football, Greyhound racing, and Tennis. Once logged in to your account you can access virtual games by selecting the virtual tab at the top of the display window. You choose the game or match-up; betting lines are displayed on the bet slip and once submitted, you can simulate and watch the event or game unfold. Horse race betting fans check out our full-page guide to Legal Philippine Horse Race Betting.
MSW Outlets
If you purchased a bet ticket, you may claim your prize at any of the recognized MSW Outlets. Note that you can only redeem your ticket from the outlet you had purchased it in or in certain circumstances you may have to claim from the head office. MSW has outlets in PAGCOR establishments and E-Games outlets.
MSW is regulated by PAGCOR, the government agency that oversees the fairness in games of chance, electronic outlets, sports kiosks, poker rooms and more. MegaSportsWorld is the only land-based sportsbook that is licensed by PAGCOR.
MSW Mobile App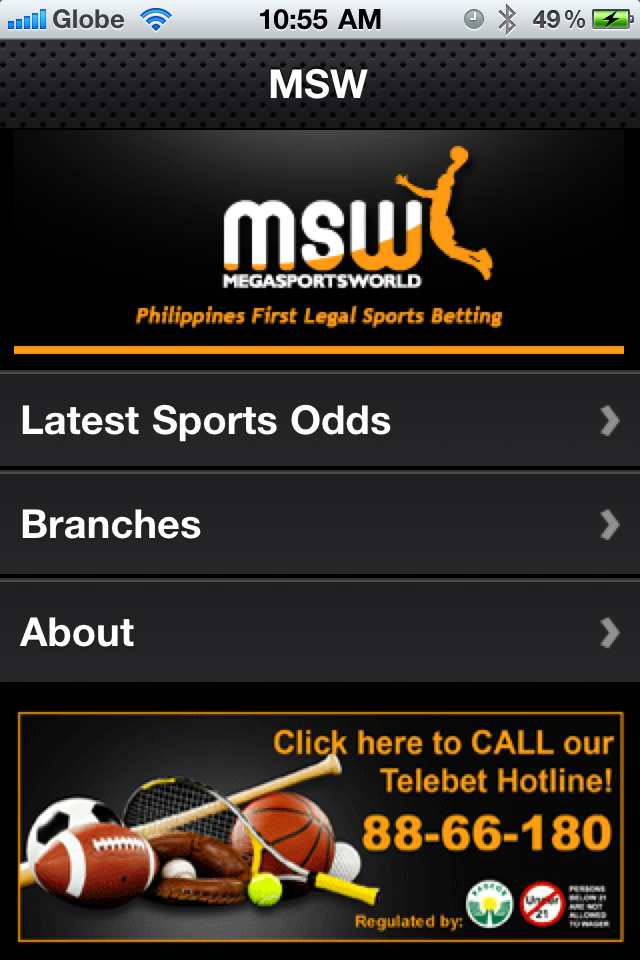 MegaSportsWorld now offers a mobile application for smartphones and tablets. Recently introduced to the market over the past several years the MSW app offers betting lines on sports across the globe. When checking the app, you will see a list of sports, and from that list, you can find the game or the match you are wagering on and the money lines associated with the match-up. As of now, online gambling is not supported over the mobile app, but you can phone in your bets or visit any MSW location and place a physical bet. The mobile app is the best way for MSW to get their players up-to-date betting lines. You can also open an account or search for the closest locations through the app or over the web.