Metro Card Club
For this review I decided to check out Metro Card Club in Metrowalk Commercial Complex, along Meralco Ave. This is because as I've mentioned in other reviews I tend to favor table games over slot machines. I happened upon Metro Card Club while I was coming from dinner with friends over at City Golf. Having never really been to a straight up card club I figured it was as good a chance as any.
The other establishments I have reviewed so far have been in hotels or resorts, which is why I felt like a complete novice once again. I put my humility on and proceeded to immerse myself to get a first hand look.
Aesthetics and Some Details
The first thing I notice is that the inside is sleek and very masculine, it works very well with the card club image that I have in my mind. The lights are dim and there's a serious atmosphere all around. The people all seemed to be part of the regular crowd. Unlike in resorts and hotels the overall attire was a lot more casual and laid back, something that really helped calm my nerves. Most of them appeared to be quite seasoned in card games but happily they were generally very welcoming.
They helped me set up my membership which was FREE, put my record into the database and told me a few things about the place. This is apparently one of four branches in the country and how they get a lot of people coming and going all the time. Some of the people they get are even celebrities or known personalities (I didn't recognize anyone though). Lastly they told me that the club is open 24 hours and that I can play any time.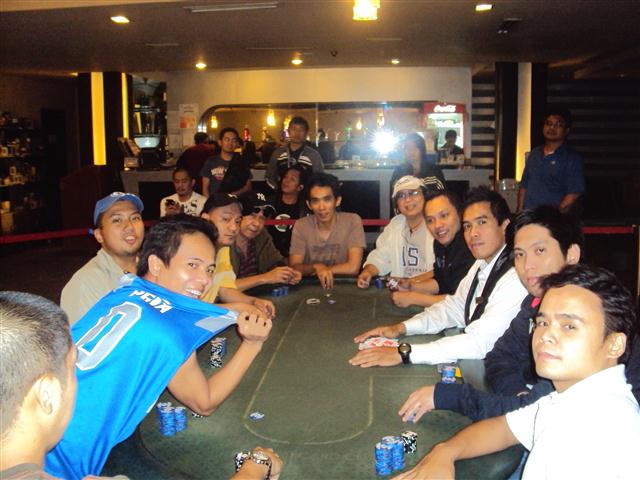 I lost pretty early on so I spent the rest of the night mostly having a drink by the bar and watching the other players. I didn't really stand a chance cause I have a very lousy poker face. I have to say though that this seems like a good place to keep practicing and honing my skills.
Card Game and Competition

They have two types of card games available namely, Texas Hold'em and Omaha, both of which are considered cash games. They said it is also possible to request other card games although I didn't really get to try since I'm already a fan of Texas Hold'em.
There is a regular rotating schedule for the different pot sizes that changes from day-to-day.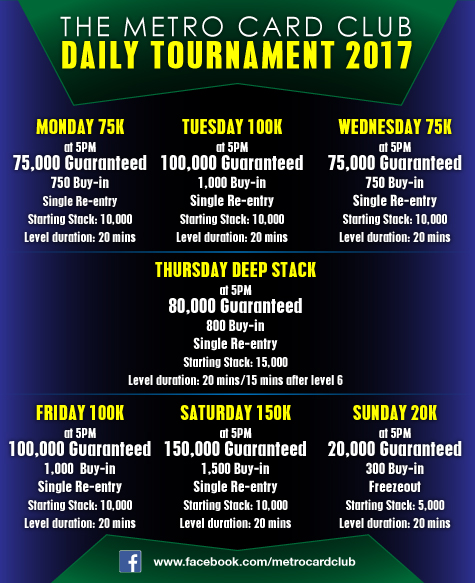 Yes, from Sunday all the way to Saturday.
Summary
Even though it doesn't have the glitz and glam of hotel or resort casinos, I found the place charming. There seemed to be a sense of community that enriches the experience and that is priceless.
If you do decide to go and visit I suggest doing the following:
Leave your ego or bravado at home (be humble)
Don't be sore loser, the competition is serious and can get intense
Be a graceful winner, just don't be that guy